This patented woman's shoulder pad designed byt Pam McQueer, former owner of the first women's professional football team in Michigan, is now reality!!  DOUGLAS introduces: ZENA the first Woman's Specific Shoulder Pads with the patented breast plate assembly.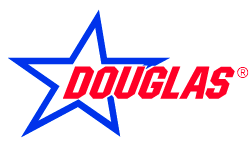 DOUGLAS has incorporated the same air-management protective properties in their "ZENA" series making DOUGLAS the leader in the professional and collegiate ranks. The "patented" breast plate assembly allows a fit for all woman players, and is adjustable up and down. The anatomically designed pads specifically contour to fit a woman's body. It is important that women athletes understand they now have a "choice" in innovative shoulder pad protection beyond what has previously been available in the industry.
Air-Management. How it works.
The protective padding "cushion" of the shoulder pad is made of open celled foam. Within the foam are thousands of tiny air cells. By adhering the outer fabric to the open cell foam, a sealed environment is created trapping the air inside of the cushion. When an outside force is exerted on to the shoulder pad shell "load spreader", it causes the shell to compress on the cushion, this in turn forces the air to move within the cells of the foam outward in the direction of 360 degrees. The result is that force of the blow is lessened at the point of impact. A much wider area of dispersion, results in less trauma to the body.
CLICK HERE TO SEE THE "ZENA SERIES" ON DOUGLASPADS.COM
After conferring with "people in the know" about the football equipment business, Pamela McQueer turned to DOUGLAS, to have the idea become reality. Because DOUGLAS outfits over 85% of the Division 1 College and Universities, as well as 13 Heisman Trophy Winners, several NFL teams, including the Green Bay Packers, Detroit Lions, Dallas Cowboys, and Houston Texans, she felt DOUGLAS would be the perfect fit.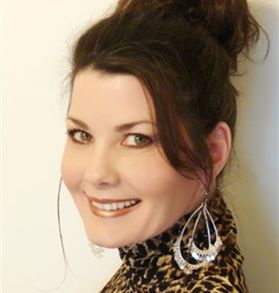 Pamela McQueer: "I am the owner of a women's football team, it was very obvious to me that men's shoulder pads do not offer adequate safety to my/all woman players due to the physical attributes of women". Men's shoulder pads do not fit a woman's frame or physique correctly.  Not only was safety a factor, but also comfort. We were out promoting women's semi pro football and we looked like a bunch of misfits. The outward appearance of my players projected what I believe to be an unprofessional image. Accessibility was another issue. By the time distributors supplied the pro teams, college teams, and high school teams, there were little or no pads available for woman's teams.
There were a few key design element changes that were needed for protecting women. First, a "cupped" frontal plate for the breasts was incorporated. Second, a longer shell design with a lower anchor point to keep the pads from "riding up". And third, a low-profile, lower riding pad with a wider neck opening for mobility was added.
Safety, fit, comfort and availability were my primary goals. These important design changes are part of the "ZENA" series pads, and I am proud to say that women have never worn anything like it before! Give it a try and play to your best capabilities with safety and comfort."
---